Golden Gryphon Press chose the cover artist for Attack of the Jazz Giants, and in "Six-Degrees of Separation" event, they selected Jason Van Hollander, a multiple World Fantasy Award winning artist who also happens to live a block from me.
I live in an artistic community, though you wouldn't know it if you came to visit. On the surface, everything appears to be normal here, the way it would be if we'd all been taken over by pods from outer space. My next door neighbor, Bryan Willette, is a stained glass artist. Up the street is carpenter, and next to him a guy who builds movie sets. Across the street from Jason, a photographer. Behind us, a guitar virtuoso. A few blocks away, a children's book illustrator/writer.


This communal spirit created a rare collaborative bond between us. Not only was Jason showing me sketches for the cover, he was also proposing to include interior illustrations for the stories.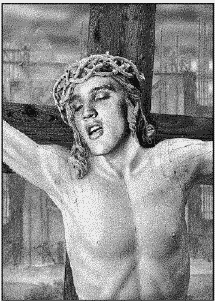 I printed out the stories that we'd selected for the collection and he read them. He asked questions about them. He followed me home in the dark. (You, you foolish people, you think I'm kidding.)We spent time in a few libraries, researching source material. I hunted up images of Bing Crosby and Bob Hope for him, while he invaded the stacks on a quest for odd Russian iconography for another set of drawings. He threw himself into the creation of the book, vanishing for days, weeks, at a time, only to turn up with another weird piece of carefully stippled illustration--of Elvis nailed up as Jesus, of a drug-warped head of Edgar Allan Poe topping the body of the Conqueror Worm, of the Virgin Mary reflected in the protective goggles of a face that looks remarkably like his own.

All of this time and effort he put into the project was out of pure love for it, because the publisher couldn't pay for interiors. They were getting them because he was compelled to create them.

Only two artists I've ever worked with have solicited opinions from me about the artwork they proposed to put on my books: Thomas Thiemeyer, who painted the magnificent covers for the Shadowbridge books; and Jason Van Hollander, whose strange and grotesque artwork is the personification of Arkham House the way it used to be--the distorted, twisted architecture of Innsmouth and a dozen other Lovecraftian landscapes.

Derangement turned inside out. And yet, like a diseased mirror, his work reflects the range of dark fantasy and horror and, yes, humor that lies between the covers of Attack of the Jazz Giants & Other Stories. I can't imagine these stories of mine now without the accompanying illustrations. And in the process I gained a mordant, talented, remarkable friend.
So long as his sly wit graces the neighborhood, I'll know that we've not yet been taken over completely by the pod people.
gf (with assistance from Don Lafferty)